Payroll services shouldn't be stuck in the past. Our secure online payroll platform ensures your employees are paid on-time, accurately, and with ease. In fact, our secure cloud-based system gives you the flexibility you need to keep your employees happy all year.
Benefits Of Working With A Trusted Birmingham Payroll Company
A paperless payroll ensures that your employees receive their pay on-time without worrying about post office delays or neighbors with sticky fingers. Direct deposit and pay cards also have several additional benefits for employees like:
A worry-free payment system, no lost or stolen checks
Instant access to pay regardless of location
No expensive check-cashing fees
24/7 payroll access through self-service
Online Payroll Delivers Efficient And Accurate Results Every Payroll
If you want to avoid confusing tax filing and deadlines you should take advantage of our payroll services. Our payroll service makes payroll tax filing a breeze, gives employees self-service options, and our online payroll platform puts you in charge without creating additional work. Designed for growing companies, our payroll services are user-friendly, customizable, and responsive to your unique needs.
Safe and Secure Online Payroll
With multi-layered security, SSAE-16 certified data centers, and customizable reports, our payroll services put you in control. Within seconds you can review reports to avoid processing errors. Simplify your employee management with a transformational payroll service that can also save you thousands of dollars each year.
Transform The Way You Manage Payroll
We believe that every company deserves a trusted, secure, and comprehensive human capital management solution. Simplify the maze of outdated payroll practices by leveraging our online payroll solutions. View and process payroll when it is convenient to you. Save money with paperless payroll. Give employees the flexibility they need to view their paystubs 24/7. To discover the benefits of our streamlined payroll services, contact our Birmingham payroll company today.
Transform Your Payroll
Interested in our payroll services? Book a call to learn more today!
Is your payroll in the cloud?
Download our guide to see why everyone's talking about cloud-based payroll.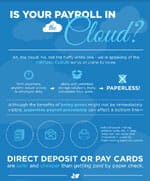 Find Out How We Can Help Your Business